10 MOST UNUSUAL WAYS TO GET MARRIED IN LAS VEGAS
Planning your wedding for Las Vegas isn't anything new, as the city has dozens of stand-alone chapels and many, many more spread out around the valley and inside hotels.
The first thing in a couple's mind isn't "let's pay $75 to get married by Elvis," ... well, not usually, but themed weddings and "gimmicks" have proven to be a major success for the valley in the past 50 years.
Some chapels have packages around anything you could possibly be interested in, while others offer 25 different ways to get married by Elvis.
Here are 10 of the most unusual:
• KISS-THEMED AT THE HOTTER THAN HELL WEDDING CHAPEL: For a starting price of $249, you can live out your dream of having a KISS-themed wedding at this well-known chapel inside Monster Mini Golf at 4503 Paradise Rd. near the Hard Rock Hotel. If you want the full experience, which includes a photographer, lanyards and an art print they call "very rock and roll," among other things, expect to drop $575. They offer the option of a regular minister, but how could you turn down being married by a Gene Simmons look-alike in traditional KISS makeup?
• ON THE NEW YORK-NEW YORK ROLLER COASTER: For $600 during the day or $700 at night, you can actually get married on the Big Apple roller coaster at the New York-New York hotel-casino. The ceremonies take place in 15-minute intervals. This would be the best option if you're interested in screaming "I do" instead of just saying it.
• AT THE "WELCOME TO FABULOUS LAS VEGAS" SIGN: It's not hard to spot newlywed couples at the Las Vegas sign celebrating with commemorative photos, but you can be officiated right there in front of the classic icon. As an added bonus, you get to explain that you technically didn't really get married in Las Vegas. Packages start at the $350 range.
• MOB-THEMED AT THE MOB MUSEUM: Talk about classic Las Vegas. While you'll have to request a quote for your mob-themed wedding, this spot in the former courthouse is consistently rated one of the top places to wed in Las Vegas. Some packages include access to the Mob Museum, a certificate signed by former Mayor Oscar Goodman, flasks and, in some, an included buffet and bar.
• BY ELVIS AT THE VIVA LAS VEGAS CHAPEL: If you're looking for your corny Las Vegas wedding, go here. They offer anything from a graveyard-themed wedding to a 1950s doo-wop themed event. The chapel is most known for their ceremonies performed by The King — and they offer up to 25 different versions. If you drop $777, your Elvis arrives in his classic pink Cadillac where the impersonator sings your wedding song. Just don't make it "Hound Dog."
• BY PIRATES AT TREASURE ISLAND (TI): Treasure Island offers your standard wedding package, but why do that when you can get married by a pirate? For the low starting price of $1,675, you can make that a reality by holding your ceremony on the Song Ship in Sirens' Cove.
• IN A DRIVE-THRU AT A LITTLE WHITE WEDDING CHAPEL: Maybe speed is more your style? This historic chapel, founded in 1951, offers the world-famous Las Vegas wedding performed in a drive-thru in their Tunnel of Love. The idea came in the early 1990s after the owner noticed a disabled couple having trouble getting into the chapel. Expect to pay between $75 and $199 for your ceremony.
• ON A GONDOLA AT THE VENETIAN: The Venetian offers multiple extravagant traditional wedding packages, but if you're looking to renew your vows or tie the knot, you can do so on a gondola without the cost of traveling to Italy. Expect to pay at least a few hundred dollars, depending on what you add to the experience.
• INTERGALACTIC-THEMED AT THE VIVA LAS VEGAS CHAPEL: Yes, we mentioned before this chapel had multiple themes, but this one is for the Star Trek fans who miss the Star Trek Experience at the Hilton. The "Intergalactic" theme includes Captain James T. "Quirk" to preside over the ceremony and life-size cutouts of your favorite characters. Tacky? Maybe. Odd? For sure. $700? That, too.

• BY JAMES BROWN AT CUPID'S WEDDING: Get married and get funky. For the low cost of $379 .. HEY!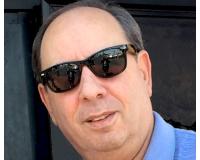 Author:
Bart Austin
Phone:
702-362-1653
Dated:
September 22nd 2015
Views:
104
About Bart: "There is no substitute for experience!" Growing up on Long Island, N.Y., Bart learned many things f...